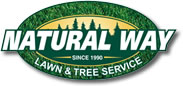 Thank you for choosing Natural Way Lawn and Tree Care. We appreciate the trust you have placed in us and will do everything possible to deliver the best service in the business and ensure you have the most beautiful lawn and landscape.
To that end, we are providing you with online access to your account. You can make a payment, set up auto-pay, add a new service, request an estimate and many other helpful things.
We also encourage you to explore our web site. It is full of information about the other services we offer, our latest specials and discounts, and answers many common lawn care, tree care and pest control questions. Take a look and don't hesitate to call, email or chat with us if you have any questions or concerns.
We look forward to seeing you soon!